General Auction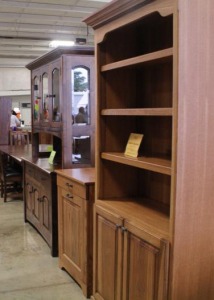 Items to be auctioned include a wonderful selection of wood furniture handcrafted in the Arthur area. You will also find framed prints, household items, home and garden supplies, and a vast array of "miscellaneous" items. Everything from a push mower to 163 lbs of beef for your freezer, there is literally something for everyone.
The auction officially begins Friday night from
6 p.m. to approximately 9 p.m. and resumes Saturday morning at 8 a.m. and lasting until about 3:30 p.m.
Quilt Auction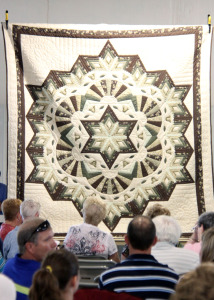 At the top of nearly every hour during the general auction quilts of various sizes and colors are auctioned off. Most are hand quilted and all are donated by various groups.
Details about each quilt including size, color and who has donated the quilt are listed in the sale booklet.
Children's Auction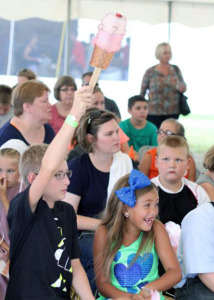 At 10 a.m. on Saturday children (and their parents) gather under the tent outside the building for an auction of their own. With ice cream paddle bidder numbers children have the opportunity to do their own bidding for a variety of toys. Bidding is usually fast a furious and really fun to watch! After the auction the children can turn in their bidder numbers at the ice cream stand for a free ice cream cone.
Silent Auction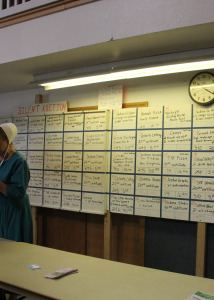 On Saturday from
10 a.m.-1:30 p.m,
a variety of certificates are up on the Silent Auction board on the east wall of the main sale area. Sale goers can use their bidder numbers to bid on certificates that have been donated for a wide variety of items including oil changes, meals at area restaurants, haircuts, landscaping mulch, etc. The highest bidder can pick up their certificate at the cashiers desk after the silent auction is over.
Blessing Bids
During the general auction you can use your bidder number to support specific MCC projects around the world. These projects vary from year to year and a complete description is included in the sale booklet. Some examples of projects supported in previous years include: providing materials to install systems for clean drinking water in Nepal, supporting farmers in new ways to grow rice and improve harvests in Lao PDR, and providing Relief Kits that include valuable supplies (soap, shampoo, towels, etc.) to families traumatized by war and natural disasters.
To see our 2023 Blessing Bids,
If you are unable to attend the sale in-person, but would like to make a contribution, please send donations to:
If you have any questions, you may contact one of the committee members.